Industrial Hearing Protection

Metal detectable for the food industry
Custom Hearing Protection that is by Nature Metal Detectable.
Nothing is inserted or installed inside the hearing protector to make it metal detectable.
The fitting process is exactly same as our standard non metal detectable custom molded hearing protectors.
We can install handles and cords and even integrate them into your communication system.
Signal length testing and results
The metal detectable Insta-Mold Custom Hearing Protector is detectable down to 1.3 mm cubes.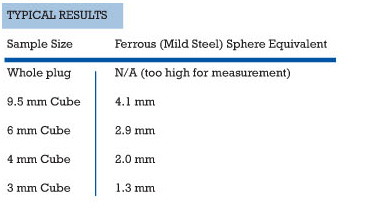 Magnetic Susceptibility For Easier Retrieval
If a hearing protector falls into a vat of liquid it can be easily found and retrieved with a rare earth magnet.
* Please note that grade of your magnet and thickness of the material the earplug is in will affect results.